The first time I saw them..I know it's perfect for my son.. It's the first ever shoe I bought for him (since most are gifts from friends and relatives).. and I couldn't settle for less.
I hunted and hunted for Pediped shoes and Shooshoos and find out that they will be one of the exhibitors in the upcoming bazaar of Expo Mom last May - I convinced my husband that we really need to go to Expo Mom.. because of Shooshoos!
And there, I met Ms. Kim, whose as lovely as her face. (I always texted him Ms. Kristine - who the he** is Kristine?!haha) Very accomodating - and right then and there, I know it won't be the last time I'll purchase shooshoos.
I'm so in love with it! Why?
the shoes look so comfty for baby's tiny feet

made of nappa leather

perfect as walking shoes

very stylish and no tie ribbon/shoe lace that would cause any accident to the baby
Here's the 1st Shooshoos I bought for Jacob:
And from the time I handed this to my son, he walked with it-- and I could see in his eyes how much he adores his new shoes - well, like mother like son hehe..
I'm such a stage mom, I sent photo to them and I just love them, really! They posted it on their site, even on their blog, welcoming Jacob as one of the shooshoos babies!
9 months old pictorial
Since, I'm just a first time mom, I never thought he would outgrew this in 2 months time! Waahhh..
That's why I decided to get Jacob his 2nd and 3rd pair of shooshoos. This time, I just texted Ms. Kim for my orders, and the following day, my husband DPied thru their bank account.
And here are Jacob's new pairs shooshoos.
So adorable!!Thank you Ms. Kim! And 'til next time! :)
P.S And they're on sale too!!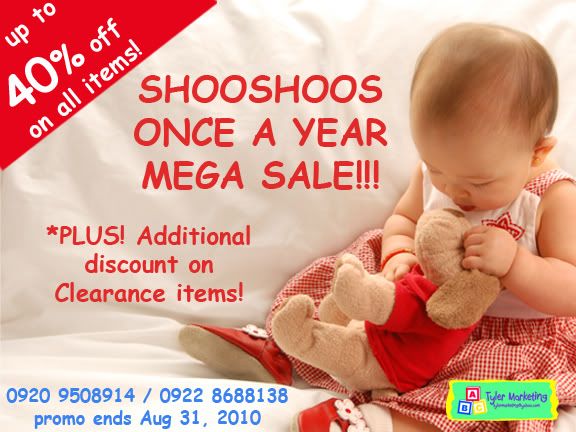 Facebook: like them! - search for shooshoos philippines